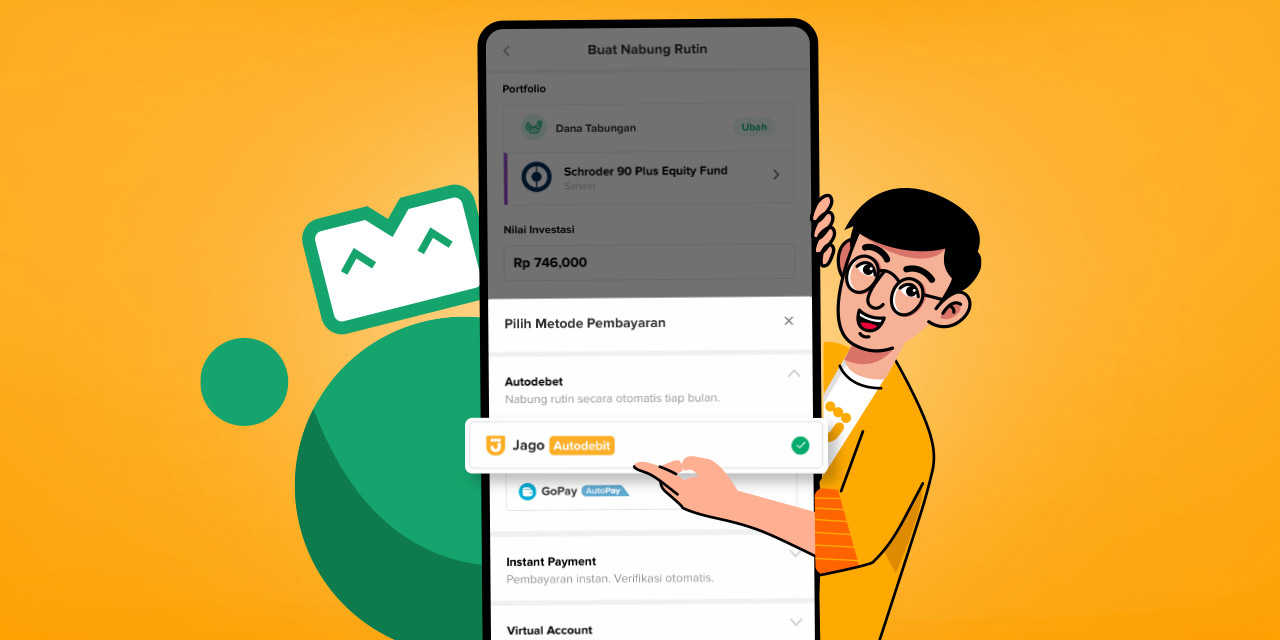 Who among you doesn't like cashback? Have you tried investing smartly and hassle-free with Bibit?
Enjoy Rp 50 Thousand Cashback for Investing in Bibit Mutual Funds 4 Times with Jago's Auto Debit
There is good news for all of you who invest in Bibit mutual funds. Jago and Bibit challenge you to be able to invest regularly 4 times in a row. If you succeed in conquering this challenge, there is a cashback of Rp 50 thousand waiting for you!
Come on, hurry up and join this challenge because it will only be held until September 29, 2021. How do you join this challenge? It's really easy. Follow these steps, Jagoan:
Open the Bibit application (download here if you don't have it yet)
You will see the Nabung Rutin banner, click on it
Use Jago's Auto Debit for Nabung Rutin by purchasing mutual funds of min. Rp 250 thousand for min. 4 times (weekly frequency)
Make sure your total mutual fund investment reaches a minimum of Rp 1 million at the end of the challenge period
Bibit will send you Rp 50 thousand cashback in the form of Bibit cashback referral balance on October 2, 2021
Cashback cannot be multiplied. For those of you who just wanted to start investing in Bibit mutual funds, you can go straight ahead to join the Nabung Rutin challenge. Use Jago's Auto Debit no later than September 8, 2021 (for 4 times - weekly frequency, so it would be September 8, 15, 22 and 29 2021).
If you have invested, make sure your balance increases at least Rp 1 million in 4 weeks' time. So, for example, if on August 19, 2021, your portfolio balance is Rp 15 million, then on September 29, 2021, your balance must be at least Rp 16 million.
The Nabung Rutin Challenge is held from August 19, 2021 to September 29, 2021. During the challenge period, you are not allowed to sell mutual funds to enjoy the cashback.
Other terms and conditions can be read below:
One user will only get 1-time cashback during the challenge period
Bibit has the right to change the Terms & Conditions of this program if deemed necessary by giving advance notice through Bibit's media
Decisions, provisions, and changes to provisions made by Bibit cannot be contested
Bibit has the right to cancel the cashback prize if there is an indication of fraud or violation of the terms and conditions of this program
The prize tax is borne by Bibit
This promotion is free of charge
By participating in this challenge, the user is deemed to understand and agree to all applicable terms and conditions
PT Bank Jago Tbk and PT Bibit Grow Bersama are registered and supervised by the Financial Services Authority (OJK)
Don't have the Jago application yet? Download now.