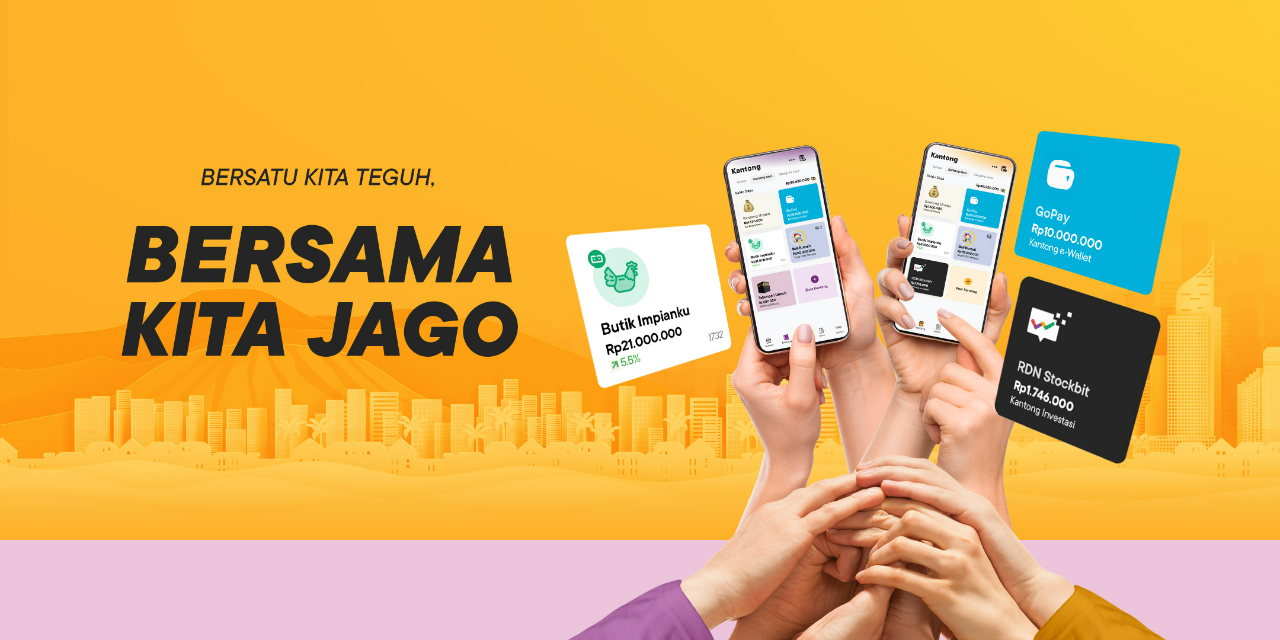 Jago's collaboration with various partners creates a digital ecosystem that makes it easier for us in many ways. Together with Jago digital ecosystem, we are jago at many things. What are they?
Together with Jago Digital Ecosystem, We Are Jago at Many Things
Before discussing the convenience that every Jagoan can enjoy from the Jago digital ecosystem, Jagomin wants to first discuss about the digital ecosystem. What is a digital ecosystem?
In short, a digital ecosystem can be interpreted as a collaboration of various parties whose main goal is to provide a unified and comprehensive entity that is certainly very beneficial for its users.
To provide a complete and comprehensive entity that makes it easy for all of you in various ways such as managing expenses, maximizing savings, securing your future and achieving your dreams one by one, Jago has the following partners.
1. Jago x GoPay
Who among Jagoans often buy food from GoFood, uses GoRide or GoCar or shop at GoPay merchants and wants to be able to manage spending better?
Jago x GoPay is here to make it easy for you to manage expenses while enjoying various services provided by Gojek.
For example, for transportation needs using GoRide, GoCar and GoBluebird, you can separate them in different Jago Pockets. The same goes for GoFood and GoTagihan needs. With your needs separated into individual Pockets, it will be easier for you when making budget allocations and monitoring expenses.
It doesn't stop there. You can also use the Jago Pocket as your main source of funds when paying QRIS via GoPay at your favorite GoPay merchant.
The Jago Pockets that you create for Gojek needs and shopping needs at GoPay merchants only require you to link them to the Gojek application. This way, there is no need for you to top up your GoPay anymore. Very practical right?
2. Jago x Bibit
The digital ecosystem created from the collaboration of Jago and Bibit makes it easier for you to save for the future (retirement) as well as for dreams or financial goals, especially long-term financial goals, such as having a dream house and personal car.
Mutual fund investment is a popular choice for investors, not limited to novice investors. With Jago x Bibit, investing in mutual funds is not only easy, but also fast and automatic.
Jago and Bibit are not ordinary partners. By linking your Jago Pocket to your Bibit account, you can top up instantly without the need to switch applications and without being charged a top-up fee. The great thing is, you can invest in mutual funds regularly and consistently without the hassle by using the Auto Top Up feature.
And, you can monitor your investment portfolio at any time directly from Jago. If your investment has given you a big return and you want to use it to make one of your dreams come true, you can sell mutual funds instantly through the Instant Redemption feature.
3. Jago x Stockbit
For Jagoans who want to transact in the capital market to boost savings or assets, you can take advantage of the collaboration between Jago and Stockbit. With Jago, you can have an Investment Pocket whose function is as a Customer Fund Account (RDN).
You can create an Investment Pocket directly from Stockbit, and it doesn't take long to create. Once finished, the Investment Pocket will be your main source of funds when making transactions in the capital market.
The return you get from the investment will go into the Investment Pocket. After that, you can transfer the money to any of your Pockets. For example, you move the investment return to a Saving Pocket that you call Dream House. Your dream house will soon be yours if you are consistent in transacting in the capital market, investing and saving.
So Jagoans, are you ready to take advantage of the Jago digital ecosystem with GoPay, Bibit and Stockbit that will make us jago together? The Jago application can be downloaded here for those who don't have it yet.