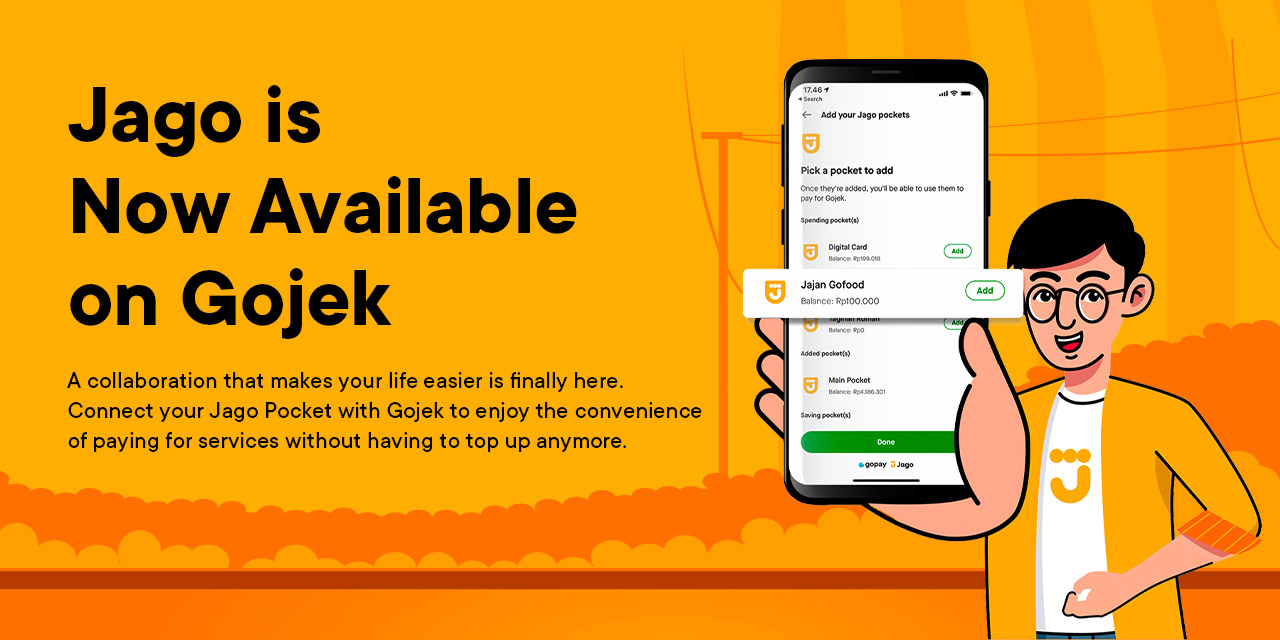 Jago and Gojek are two applications that put forward technological sophistication to make everyone's life easy and comfortable, right in the palm of your hand.
Now, Jago and Gojek collaborate and are ready to accomplish the ultimate goal: making your life much easier and hassle-free.
Benefits You Can Enjoy from Jago and Gojek Partnership
1. No need to top up Gopay balance all the time
Life is a gift. Precious time should be spent on things that are important and precious as well. Jago is now connected as an automated payment method for Gojek services. Once you link your Jago Pockets with Gojek, this means you no longer have to worry about topping up your balance in Gojek ever again! Also, there is no fee for transfers between Jago and Gojek.
2. Recorded expenses, no stress on your end
As you already know, Gojek offers many services, such as GoRide, GoCar and GoBluebird to help you travel easily and safely, GoFood to make it easy for you to indulge in delicious food and drinks from various restaurants and GoTagihan to pay various bills.
With so many needs to fulfill, you may feel stressful when it comes to recording and managing expenses.
In the Jago application, you can create a Pocket for each of your Gojek needs. You can name your Pockets accordingly, for example Snack Pocket, Commuting Pocket, Girl/Boyfriend Treat Pocket and so on.
Because each need has its own Pocket, it becomes easier for you to track and manage expenses. All transactions are recorded by Jago. And, you can enjoy all these conveniences without monthly admin fees. What was spent on monthly admin fees can now be spent on other needs.
3. You can practice self-control and discipline
Are you a person who can't stand seeing idle money? You always want to spend the idle money on something, saying it is a form of self-reward. It's okay to buy stuff or food that you like. But, it's not okay when you cannot control your desire and end up with no money at the end of the month.
After creating a Pocket, you can set a budget for the Pocket at the very beginning. For example, you just created a GoFood Pocket and set a budget of IDR 1 million. After a while, that IDR 1 million will become less and less. Once it is finished, you know you should not add more money into the Pocket. This is how you can start practicing self-control and discipline.
You can make this a challenge for you to tackle. It would be so much fun, promise!
Feel and enjoy a much easier life by taking advantage of the collaboration between Jago and Gojek. If you haven't had the Jago application yet, you can download it here.