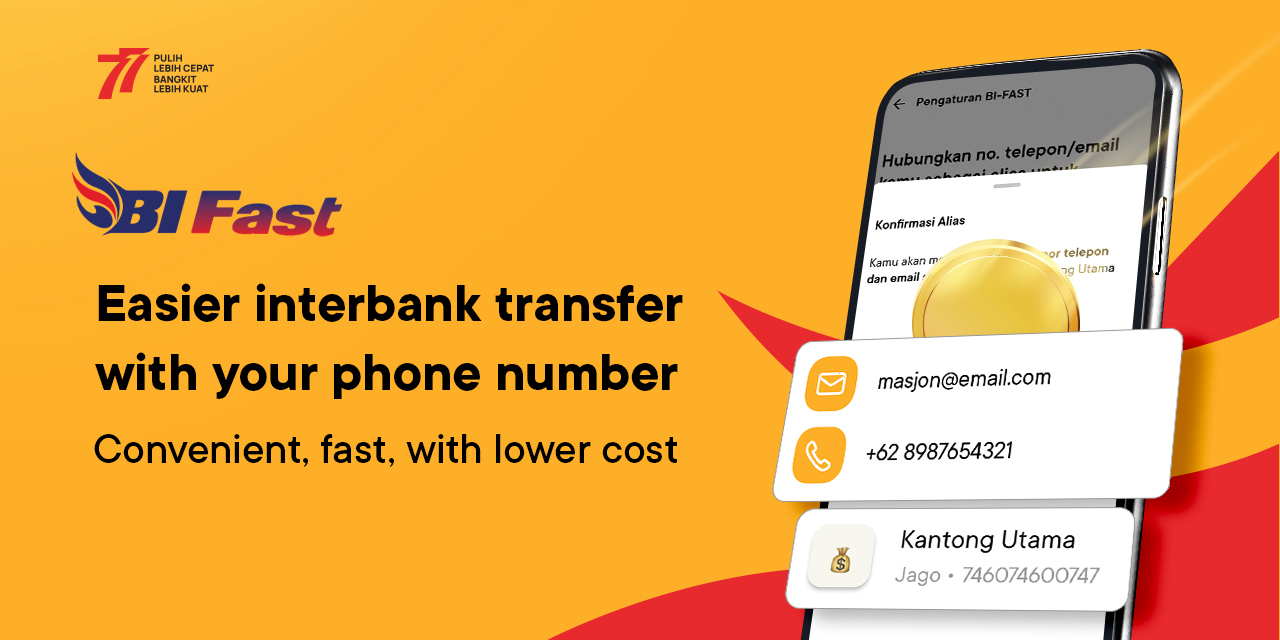 Good news for all Jagoans, the online interbank transfer service BI FAST is now available in Jago. You can start using BI FAST to top up your Jago Pocket.
Benefits of Using BI FAST for Interbank Transfers
1. Cheaper transfer fee
With Jago, you get up to 150x free transfer to other banks, depending on your Account Level (starting 1 September 2022). For now, you can enjoy 25x free transfer. But sometimes, you do need to pay an interbank transfer fee if you want to transfer money to Jago. Imagine if you need to transfer multiple times. The money for eating out one time is used up to pay transfer fees.
Now, with BI FAST you can enjoy a cheaper transfer fee, which is only Rp 2,500. However, you need to know that this transfer fee only applies when you transfer money to a bank that is a BI FAST participant.
Because Bank Jago is already a BI FAST participant, when you want to top up your Jago Pocket, you only need to pay a transfer fee of Rp 2,500. Isn't it great that you can save money by paying cheaper transfer fees?
Also, by using BI FAST at Jago, you are not the only one who can save money. Family members and friends who need to transfer to your Jago Pocket can also save money because transfer fees are now cheaper.
Then what if you want to transfer to another bank from Jago? You can still enjoy a free interbank transfer quota per month according to your Account Level. If the quota has been used up, then you will need to pay a fee of Rp 2,500 per transfer with BI FAST.
2. Available 24/7, secure and convenient
BI FAST is available any time. So for those of you who are busy working all day and want to make transfers in the middle of the night, you can. If you wake up before sunrise and prefer to make transfers in the morning before starting your daily activities, you can. The money you transfer goes directly to the destination account right away. In other words, every transfer is processed real-time.
And, you don't need to worry about the security of transactions using this payment facility developed by Bank Indonesia. There are fraud detection and AML/CFT that protect and secure every transfer you make.
The cool thing is, transfer using BI FAST, you can use an alias. This alias is a proxy address in the form of an email or phone number.
If you have used an alias, you can forget about remembering your Jago Pocket number (account number). Anyone who wants to transfer to you also doesn't have to bother memorizing or writing down your Jago Pocket Number.
This is of course also more secure because you no longer need to tell anyone your bank account details such as account number.
3. You can transfer a huge amount of money
By choosing BI FAST, you can make a large transfer, up to Rp 250 million. When you can transfer large amounts, the process becomes more efficient. You don't need to wait for the next day to make a transfer again because there is an interbank transfer limit per day.
How to Create an Alias ​​in the Jago Application
Many of you want to start making transfers using BI FAST, right? As discussed briefly above, you need to have an alias.
How do you create an alias in the Jago application? Very easy. You can tap the BI FAST banner in the Spotlight section or click the More menu then select the Settings icon at the top right and scroll until you find BI FAST.
Next, follow these steps:
Learn about BI-FAST, then tap OK
Tap Link to link your phone number or email
Double-check the details that have been entered, then tap Next
Input your Jago PIN
Alias has been created
Then, if you want to transfer to another bank from Jago with BI FAST once the free interbank transfer quota runs out, you can follow these steps:
Go to Pay & Send in Home page
Choose New Contact
Choose Other Bank
Choose Phone Number or Email
Search existing contact or email, click Check and tap Next
Input the amount and tap Next
Complete the recipient information by choosing the Recipient type and the Recipient residential status
Review the transfer summary, then choose Send Now
Super simple, right? What if you don't have a Jago account yet? Download the Jago application here and complete your Jago account registration, which doesn't take long.